Sell more on your website with The Upsell Add on
The Percentage App Upsell Add on is an optional extra feature for our booking engine which allows you to improve your direct booking revenue by offering guests the opportunity to add upsell products and services to their reservations during the booking process or prior to arrival at your hotel or hostel.
Get Started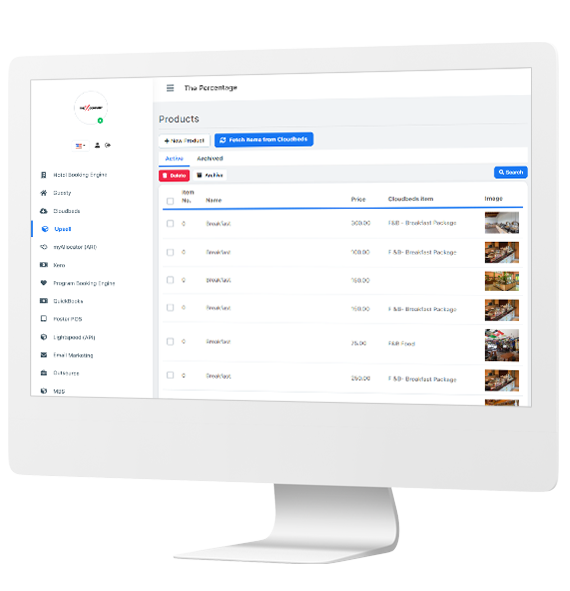 Booking Engine Upsell Addon Features
The Percentage App booking engine Upsell Add on allows you to seamlessly embed upsell products and services into the guest booking process and posts the selected upsells back to each Reservation file within your PMS.
Website Integration
Embed personalised upsell offer pages into branded pages within your website.
Email Integration
Embed personalised upsell offer pages into customer emails and confirmations.
Messaging Integration
Embed personalised upsell offer pages into WhatsApp & LINE instant Messages.
Custom Styling
Customise styling of upsell pages & confirmation emails for Upsell purchases.
Full PMS Sync
Confirmed product & service purchases posted to PMS guest folio.
Multiple Charge Types
Setup Upsell items charged /person, /piece, /room, /person & night, /person & stay.
How to connect The Upsell Add on
The Percentage App connects through the internet to your PMS account via API technology. Read about how to get setup with The Percentage Upsell Addon below, it's as easy as 1-2-3!
Connect The App
Create your Percentage APP account & connect it to your Cloudbeds MyAllocator Account.
Customise your Account
Configure the look & feel of your booking engine & add the neccessary property info.
Load the Scripts
Load the Percentage App script & search bar provided into a blank page on your website & that's it!
Frequently Asked Questions
Do you have Questions about The Percentage App's booking engine solution? Here are some of the most frequently asked questions from our customers around the world:
The Percentage App booking engine connects to your Cloudbeds MyAllocator channel manager account through the internet and syncs your rates and availability and returns booking information including credit card information to your Cloudbeds MyFrontDesk account when new reservations are made.
The price of our booking engine starts from just $30 USD per month depending on the number of rooms/beds within your property. Use the form above to calculate the exact price for your property. There are no long term contracts and subscriptions can be cancelled at any time. An additional 8% discount is also available for annual subscriptions if paid in advance.
Register your account here
. Once you have registered, you will receive an email from our sales team (sales@thepercentageapp.co) along with a Paypal link for payment of the 1st month subscription. Once you have made payment, you will receive login credenditals for our system along with setup videos and step-by-step instructions from our support team.
Our finance department will provide you with online payment links allowing you to pay by credit card or with Paypal.
The Percentage App script needs to be installed in the body of a blank page on your website with a standard header and footer to match your site (HTML, Wordpress or other CMS are supported). You will next need to install the booking mask / search bar or date picker widget on the pages of your existing website using a script we provide. Once your account has been configured within our app and the necessary information has been loaded, that's it, you can start taking bookings immediately! If you require additional help to setup the system on your site, our support team are also on hand to support with installation if required for a 1 time additional fee of $200 USD.
Get in Contact
Want to know more about The Percentage App?
Find out more about how The Percentage App can help you increase your revenues, save you time and save you money! Have questions? Get in contact today!