Simplify your Guesty PMS Accounting with Xero
The Percentage App seamlessly books your sales, tax & payments data directly from your Guesty PMS account to your Xero account automatically each day, posting guest invoices automatically after check-out, which saves you time & money while eliminating data entry mistakes!
Try Our Guesty <> Xero Interface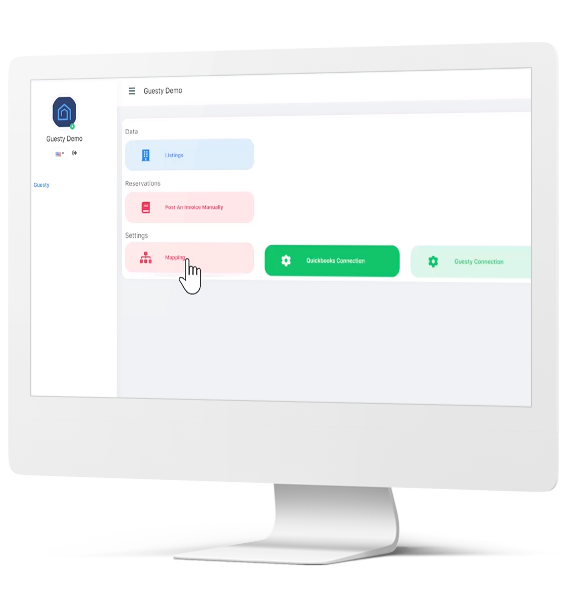 Guesty to Xero Accounting Interface Features
Our Xero Accounting interface for Guesty allows you to automatically generate and post invoices for checked-out guests to your Xero account. Here are some of the key features of our Xero accounting interface for The Guesty PMS:
Automatic Posting
Automate the daily posting of revenues by setting the time and then let it run!
Custom Mapping
A flexible mapping process allows you to choose the detail you wish to see in Xero.
Easy to Use
Setup the mapping of your revenues using our easy to use web-based dashboard.
Automatic Reporting
Get automatic reports & Journal Entry notifications from the App.
Preview
You can preview invoices and choose between manual & auto posting.
How our Interface works
The Percentage App connects through the internet to your Guesty account and to your Xero account and automatically transfers your accounting data every day. Here's what you have to do to get it setup. It's as easy as 1-2-3!
Connect The App
Create a % APP account & Connect it to your Guesty & Xero Accounts.
Map Your Revenues
Map your revenue items to the General Ledger Accounts within Xero.
Schedule The Posting
Set the Automatic Posting and that's it!
The Xero Interface Demo
Watch the video demonstration video of the Guesty to Xero interface here to find out how you can simplify your Guesty PMS accounting using our app.
Try The Xero App
About Xero
Xero is a highly flexible and easy to use accounting system, ideal for integrate with the Guesty PMS, here are some of the main reasons to choose Xero as your accounting solution with The Percentage App:
Log in anytime, anywhere on your Mac, PC, tablet or phone to get a real-time view of your cash flow. It's small business accounting software that's simple, smart and occasionally magical.
Use our mobile app to reconcile, send invoices, or create expense claims - from anywhere.
Send online invoices to your customers - and get updated when they're opened.
Xero imports and categorises your latest bank transactions. Just click ok to reconcile.
Get in Contact
Want to know more about The Percentage App?
Find out more about how The Percentage App can help you increase your revenues, save you time and save you money! Have questions? Get in contact today!